Welcome to Virtually Veggie, this new series on IShouldLogOff will feature easy vegetarian recipes that are both yummy and filling! Each recipe featured will be one of my favorites from a variety of sources, cookbooks, friends, family, farmers from my market, etc. You should know that I in no way am a chef or even have ever worked in a restaurant, I just love veggies and easy yummy recipes. My motto is if it takes more than 45 minutes to prepare, start to finish, I am probably not ever going to make it, so the majority of what will be featured fit that description. I hope you enjoy! And of course feel free to request a specific veggie to be featured in future weeks.
Featured Veggie: Eggplant

This week we start with a seasonal favorite of mine, the eggplant. The eggplant is used almost worldwide in the variety of dishes and can be very easy to prepare. A note: the best time to use an eggplant is fresh from the farm, they don't keep well in refrigerators or on countertops.
Roasted Eggplant and Tomato with Almonds in a Mustard-Balsamic Vinaigrette

What you will needed: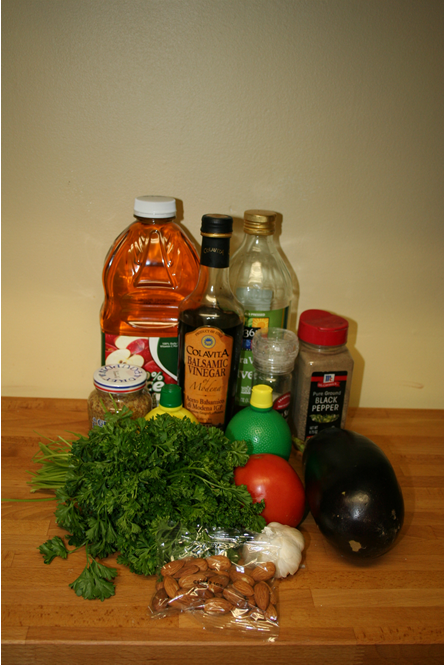 ¼ cup slivered almonds (or pine nuts depending on your mood)
1 pound of eggplant (about one medium eggplant)
2 small or one large tomato (diced)
½ cup apple juice
3 tablespoons balsamic vinegar
3 tablespoons fresh parsley
2 tablespoons grainy mustard
2 tablespoons lemon juice (or lime)
2 cloves of garlic (minced or pressed)
1 teaspoon salt
½ cup olive oil
a skillet
a baking sheet
a bowl
a whisk (or fork)
Preheat your oven to 375 degrees (F). In a dry skillet toast the almonds over high heat until they are brown and smell fragrant (give or take 45 seconds to a minute depending on heat). Remove the almonds from the skillet and set aside.
On a large baking sheet use a little olive oil to coat the sheet so the eggplant and tomatoes don't stick. Slice the eggplant into lengthwise slices (about ½ inch think). Arrange the eggplant on the baking sheet.
Remove the stem and seeds from the tomatoes and dice. Arrange around (not on top of) the eggplant on
the baking sheet. Place the baking sheet in the oven and allow it to roast until the eggplant is soft (about
30 minutes or so).
In a bowl whisk together the apple and lemon juice, balsamic vinegar, parsley, mustard, garlic, and salt.
Slowly pour in the olive oil while continually whisking. Keep whisking until the dressing no longer separates.
Once the eggplant is soft, remove the baking sheet and flip over the eggplant slices. Spoon about 2/3 of the dressing over the eggplant and set aside for to cool. Once the eggplant is room temperature its ready to serve! Place slices on a plate and spoon over some of the roasted tomatoes and the remaining dressing, and finish it off with a sprinkling of the toasted almonds. I like to complete the dish with fresh ground black pepper and salt.
This recipe makes about 4 servings. A special note: It doesn't keep well, so make sure you will finish the whole dish in one sitting.
Enjoy!