When the hostel sign said, "Tonight, Free Dinner!" we were expecting meat from the braai (barbecue), so when we saw a large three legged cast iron pot on the coals we were a bit confused.
Like settlers during America's westward expansion, Dutch settlers in South Africa brought their own form of cooking, potjiekos which survives today as a traditional Afrikaner cooking method. Very similar to a stew in the United States, potjiekos is a dish of meat and vegetables slow cooked over the fire in a caldron that we would call a "dutch oven."  Essentially a layered stew, the cast iron pot sits on the coals for several hours without opening the lid.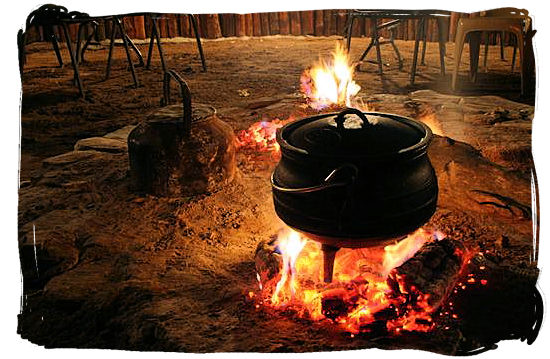 Starting with a layer of meat and potatoes on the bottom, the pot is layered in order of cooking time with more potatoes, butternut squash, onions, zucchini, mushrooms and other vegetables. From the sounds of it, you can use just about any vegetables you have lying around, douse them with water or the more traditional flavoring- beer- and cover. The pot simmered for about 4 hours at our hostel, but the time depends on what ingredients you use.
Like the braai, a potjiekos is a social event, with everyone standing around, enjoy the company waiting for the food to finish. "It's done when the time's up," the hostel owner told us, and after explaining that he'd made the dish more than 600 times we left the art of the potjiekos in his hands.